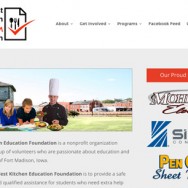 When my enthusiastic friend and long-time customer, Kumar Wickramasingha, asked if I wanted to build a website for his new venture, I jumped at the chance! Who could blame me? The idea was a novel one for Fort Madison… The Test Kitchen Education Foundation is a non-profit organization to fund the Elliott Test Kitchen. ETK gives kids a place to go after school to work on and get help on schoolwork from teachers and volunteers, as well as hang out with friends while eating tasty food cooked by kids learning from an award-winning experienced chef!
The challenge was to create a nice looking site that was responsive (so it looks great on mobile devices, too) and could be easily maintained. I was able to help with some branding choices and developed a dynamic website that incorporated a live Facebook Page feed and accepts online donations via credit cards. Oh, and we had about three weeks to get something launched!
The result is a website that contains all of the above and includes some surprising subtle animations. The Test Kitchen Education Foundation represents cutting edge thinking and its website was built to match!